Nothing is more expensive than a missed opportunity
Fig aggregates high value, low risk credit opportunities for lenders - complimenting existing business by supercharging deal flow.
Browse high yield, high impact deals for free.
Make credit decisions easily with access to real time accounting, banking and operational data from borrowers.
Execute agreements, transact, and perfect security using Fig. Manage multiple credit lines in one place with real time reporting.
From local to global
All lenders welcome. All terms catered for. Fig aggregates opportunities for global banks, alternative local currency lenders, and everyone in-between.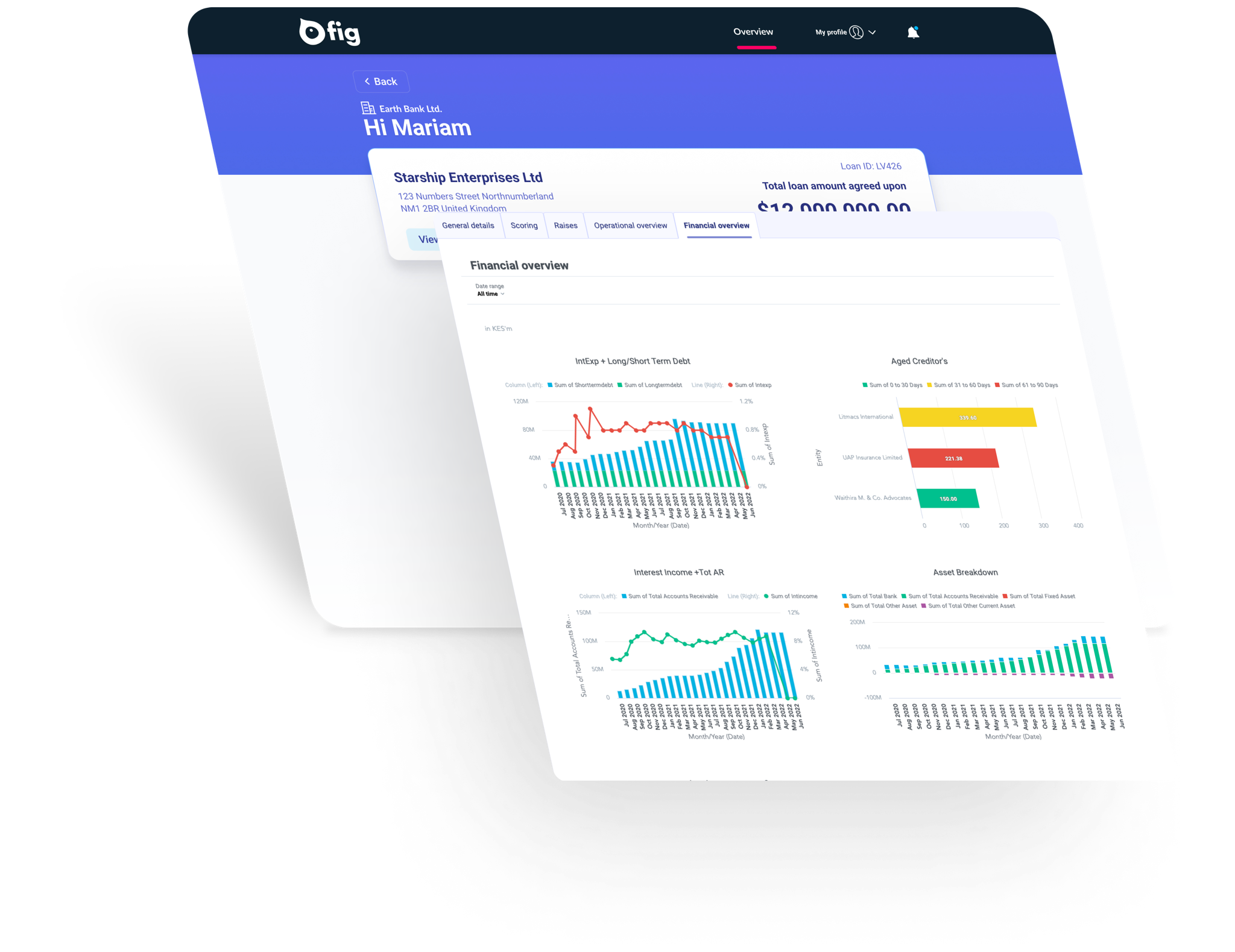 Digitized due diligence
Fig's API collects and highlights company and deal data in real-time for credit committees. Relevant opportunities, packaged for quick decisions.
No-cost origination
Fig curates a universe of high quality, vetted deals for lenders. Free of charge.

Smart loan management
Real-time UPDATES on operational, financial and loan performance.
Frequently Asked Questions
Fig's borrowers are typically Series A stage (and above) companies who have successful track records operating financing programs, or who have strong growth metrics and require debt for working capital. That being said, Fig does also work with earlier stage companies if they have a strong proposition, and can provide the lenders on our platform with relevant data feeds.
The lenders on Fig's platform range from global trade finance institutions and DFIs, to local banks, asset managers and alternative lenders - we have designed Fig's ecosystem so that you can raise debt facilities in local currency, USD and even Euros.
Fig has created an ecosystem of lenders that are comfortable lending hundreds of thousands, to hundreds of millions. We've done this so that companies aren't reliant on one or two lenders, and so that they can scale their debt requirements easily without having to spend precious months building new lender relationships as they grow - Fig delivers these relationships instantly. At the same time, Fig reduces the cost of capital for the best borrowers by having lenders bid for your business.
Fig ensures that your proprietary data is shared securely with only the lenders that agree to your confidentiality terms. We are also legally bound to make sure your data remains yours.
Fig is free to join! We only charge a transaction fee when a deal is closed successfully. This fee ranges from 0.1-1% depending on the value of the deal.